Only Child Rose-Colored Sunglasses White Chocolate with Cranberry, Rose and Pistachio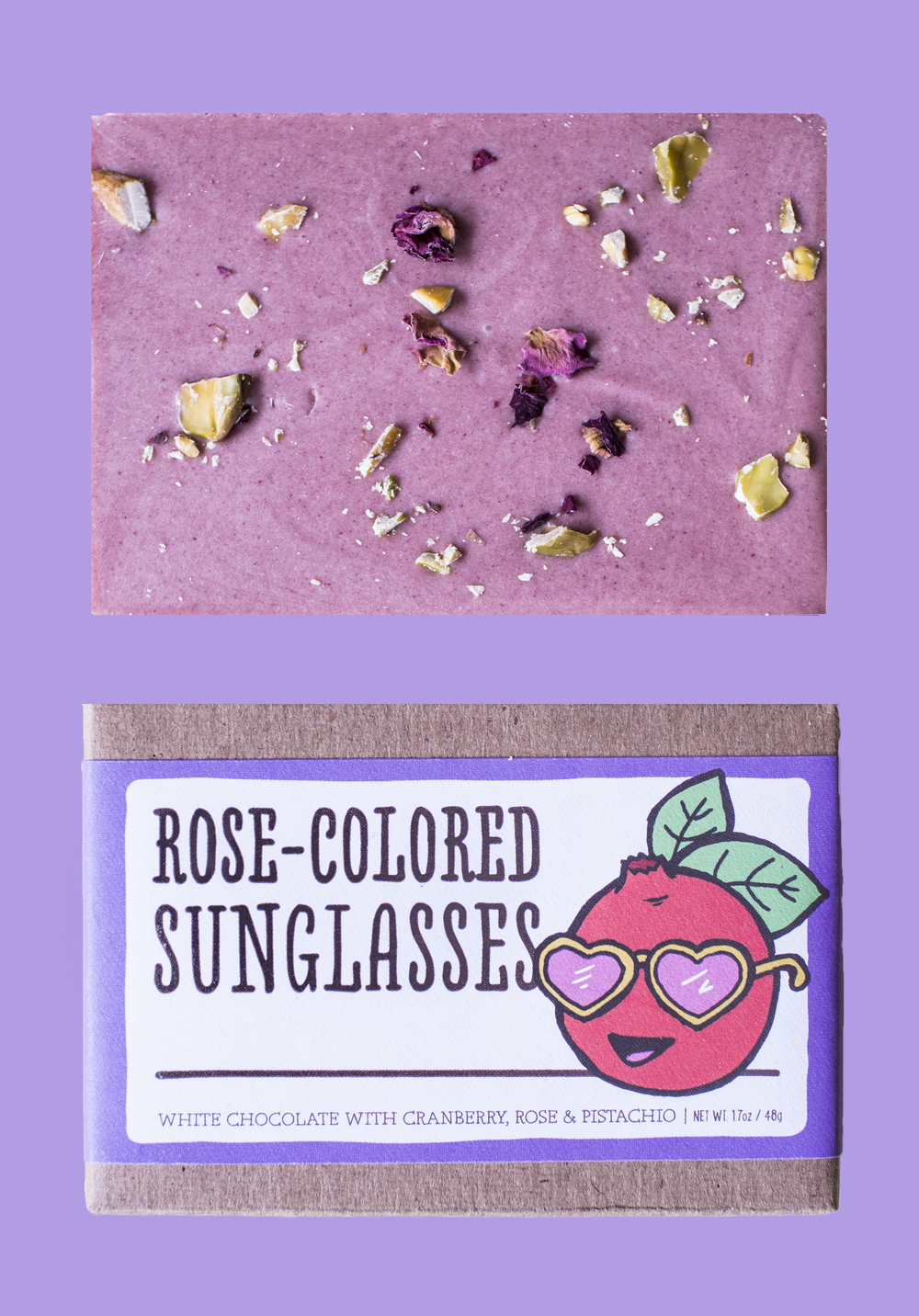 A base of undeoderized white chocolate, which retains the original flavor of the cocoa butter, is blended with cranberries, rose petals and chunks of roasted pistachios. The combination of flavors is bright and tart, juicy and fresh, with savory undertones.
Ingredients: 31% white chocolate (sugar, cocoa butter, whole milk powder, soy lecithin, vanilla), freeze-dried cranberries, pistachios, rose petals, rose essential oil
May contain traces of nuts, soy, and dairy
Made in Portland, Oregon
A Note from Only Child Chocolate
Yana, an only child, grew up in Moscow. As a tiny tot, she enjoyed tiny squares of bitter chocolate that sweetened the cold of Russian winters. Upon moving to Chicago in the summer of 1997, she discovered the joys of chocolate milk and peanut M&M's, thus cementing her love for both the sophisticated flavor of dark chocolate and the exuberant cheerfulness of candy. While majoring in Literature at the University of Illinois C-U, Yana spent most mornings moonlighting as a cupcake decorator. After graduating, she abandoned Chaucer for chocolate and moved to Portland, OR to attend culinary school. During long days as pastry chef for Crema Bakery in SE Portland, she dreamt of a chocolate company. The offspring of Yana's love for puns and unexpected flavors, Only Child Chocolate Co. seizes your hand and takes you on a joyful adventure in taste.
We pick, pack and ship orders around the clock. Most orders will be processed within 1-2 business days of receipt. Many orders are shipping sooner than that! Please note orders are not processed or shipped on weekends or holidays.
We are happy to ship every package with recyclable or compostable materials. We also include a complimentary sweet bite in each order :-)
white chocolate
The Candy bar was smooth and satisfying. The chocolate was nicw and smooth!
Unique
My order took a little longer than I expected, but everything arrived in good condition. I especially enjoyed the attached card and tiny chocolate that came with it. The personalization was a happy surprise. I love your store and look forward to further purchases. Thank you!
Only Child Rose colored white chocolate sunglasses!
White chocolate is one of my faves, and these bars are the best! They are smooth and flavorful with the cranberry and rose! Only child striikes again!
Unique chocolate - local product
Bought these bars while visiting Portland and Mississippi neighborhood. Cravings returned. As wonderful as I remembered. Easy site. Great service and turnaround for shipping.
Delicious and Lovely!
I ordered a variety of chocolate from The Meadow - it arrived quickly, obviously hand wrapped and filled deliciousness. This lovely treat in particular, a combination of all of my favorite things and it did not disappoint!