The Bitter Truth Grapefruit Bitters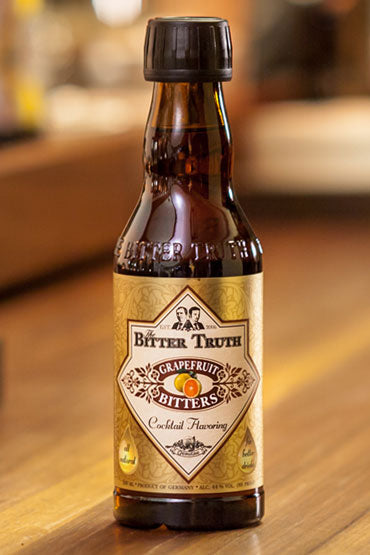 The Bitter Truth Grapefruit Bitters do not fail on representing this oversized but under used citrus. With an instantaneous boost of the zingy breakfast fruit on first sniff, you get both the bitter oils but also the classic sharp tang on the tongue too. Alongside that there are complex vegetal tones and a dry hop finish. These bitters are best friends to gin, vodka, blanco tequila and light rum and are a wonderful ingredient for citrus-heavy drinks that may otherwise taste excessively sweet. Grapefruit meets with hops to create a fresh, bright citrus note. Best friends with gin and tequila, these bitters play nicely with fizzy and fruity drinks as well.
The Bitter Truth Grapefruit Bitters reminds one of summers outdoors. Delicate to the nose, these bitters can stand up to aggressive drinks. Give a modern twist to a classic Gin and Tonic with a couple of dashes of Maraschino and the Grapefruit Bitters – or add dashes to a Daiquiri or Paloma to add a new layer of complexity to cocktails that traditionally didn't include bitters.
Flavor Notes: Bright, complex citrus. A dominant grapefruit aroma and flavor mellows into the vegetal green flavors of hops. A great bitter for citrus-heavy drinks that may otherwise feel dull or overly sweet.
Net weight: 6.7oz / 200ml
Made in Germany!
We pick, pack and ship orders around the clock. Most orders will be processed within 1-2 business days of receipt. Many orders are shipping sooner than that! Please note orders are not processed or shipped on weekends or holidays.
We are happy to ship every package with recyclable or compostable materials. We also include a complimentary sweet bite in each order :-)