Dick Taylor Dark Chocolate with Brown Butter, Nibs and Sea Salt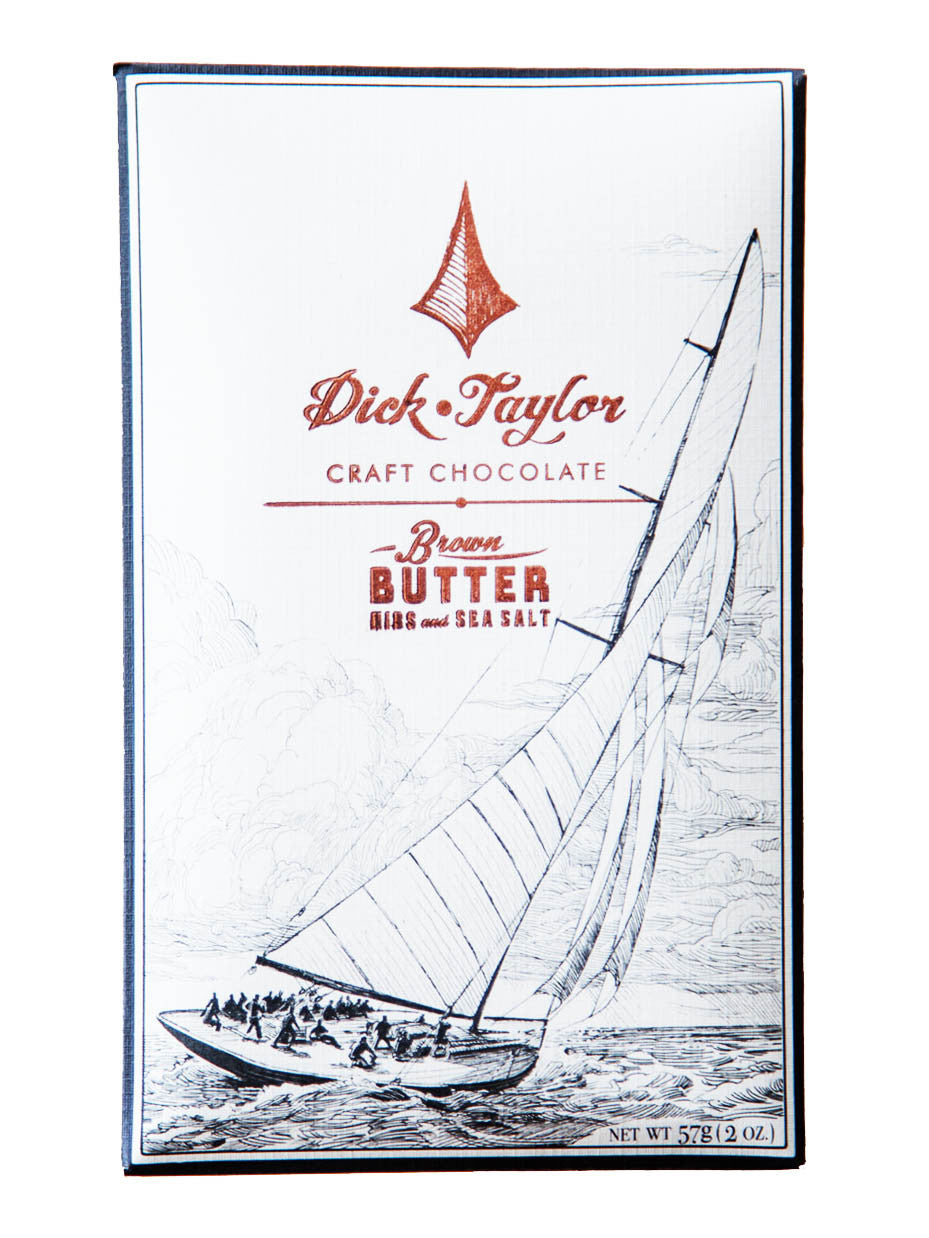 Nutty, rich browned butter from Humboldt Creamery paiaired with Dick Taylor's 73% Northerner Blend, then hand sprinkled with roasted cacao nibs and sea salt. Like, what?!
Flavor Notes: Salted butter toffee.
Former wooden boat and furniture makers Dustin Taylor and Adam Dick founded Dick Taylor in Eureka, California, in 2010. This bean to bar chocolate company is operated by a very essential staff, and every step in their crafting process is entirely hand made.
Ingredients: Cacao, cane sugar, butter, fleur de sel (ours!) Organic cacao, cane sugar, and butter. Hand-harvested, sun-evaporated sea salt.
Net weight: 2oz / 57g
Made in Eureka, California!
We pick, pack and ship orders around the clock. Most orders will be processed within 1-2 business days of receipt. Many orders are shipping sooner than that! Please note orders are not processed or shipped on weekends or holidays.
We are happy to ship every package with recyclable or compostable materials. We also include a complimentary sweet bite in each order :-)
Deliciously tangy and smooth
I don't like all Dick Taylor bars, but this one is rich and tangy, with just a hint of bitterness, like a high-class version of the chocolate icing on Sunday school donuts (this is a compliment). It's *very* smooth, which complements the nibs nicely. I would buy again -- in fact, I already have!
Delicious
I sent this as a gift and the recipient said it was delicious. He was sad when it was gone.
So smooth ...
If you're a fan of nibs, this is an excellent bar. The brown butter adds a wonderful, deep flavor, and the sea salt is the perfect finishing touch. Now one of my favorites - just ordered it again!
Decadent!
This chocolate was dark enough to not feel childish but creamy enough to not be chalky. Brown butter upped the ante! A nice treat to enjoy in quarantine or after a long shift on the frontlines.