Hummingbird Zorzal 70% Dark Chocolate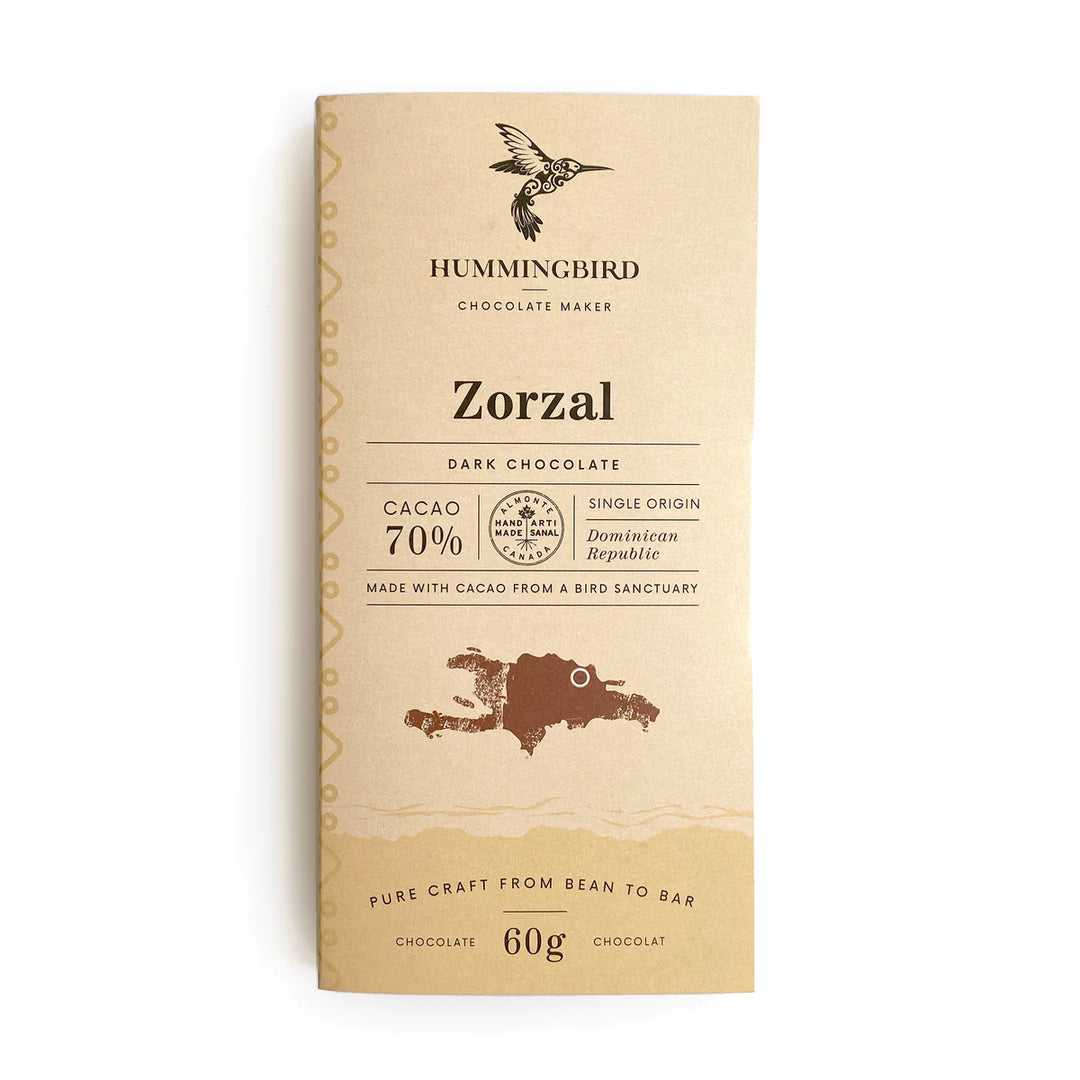 Zorzal (Bicknell's Thrush)
A lovely, rare songbird native to Ontario, Québec & the Maritimes, the Zorzal is threatened with extinction. In the Zorzal's winter home in northern Dominican Republic, conservationists and investors are determined to fight for the bird. They've created a 300 ha biodiversity sanctuary in the northern highlands to safeguard the bird's habitat. As sustainably grown cacao (used to make this very bar) supports the sanctuary, we'll hear the Zorzal's song for a long time to come.
Tasting notes:

Makes your heart sing! Smooth like honey with hints of fresh apricot and pecan.

Real chocolate starts with high-quality cacao beans sourced from the best cacao farms in the world. Each bean has unique terroir, or character and flavour, and as craft chocolate makers, we challenge ourselves to find the best possible expression of the cocoa through our chocolate making process.

Hummingbird's process is rooted in traditional 18th century style chocolate making techniques, but modernized through Hummingbird's own innovative and industrious style.
Chocolate is a delicate balance of art and science and they make their chocolate slowly, in small batches, with careful attention to detail at every step. Our chocolate makers are diligent and patient folks, carefully checking, monitoring and testing to ensure quality is preserved throughout.
It takes ten steps and over a month to craft their chocolate from cacao bean to yummy bar. They love their craft and nothing is more important than taking the time to do it right.
Ingredients: Organic cacao, organic cane sugar, organic cocoa butter.
Net weight: 2.12 oz/ 60 g.
Made in  Almonte, Ontario!
We pick, pack and ship orders around the clock. Most orders will be processed within 1-2 business days of receipt. Many orders are shipping sooner than that! Please note orders are not processed or shipped on weekends or holidays.
We are happy to ship every package with recyclable or compostable materials. We also include a complimentary sweet bite in each order :-)