Hogarth Chocolate White Chocolate with Maple and Walnuts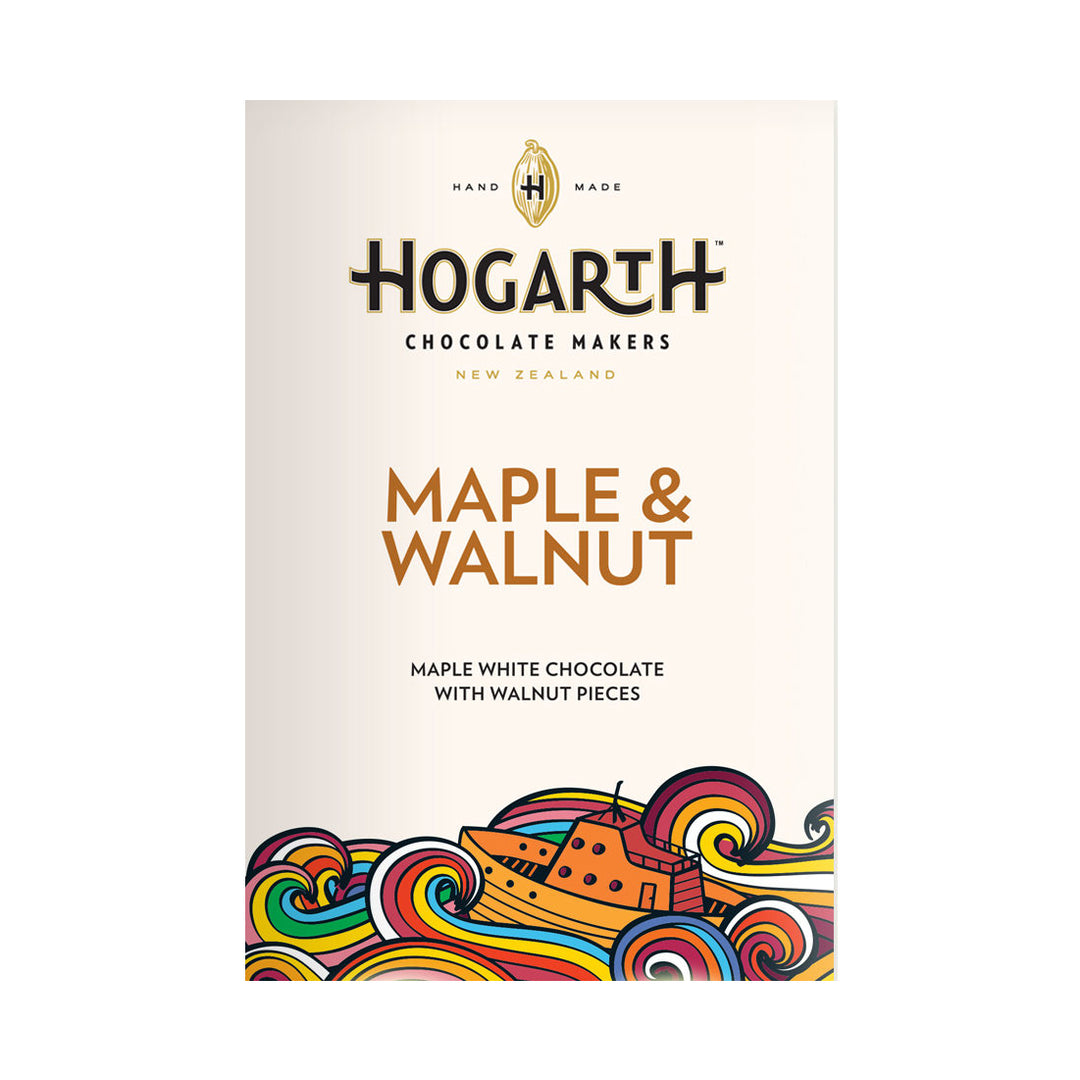 Hogarth Craft Chocolate is born out of a passion for chocolate, craftsmanship and art.
They source the highest quality cacao beans from around the world to create small batches of chocolate using traditional techniques. Their small factory is located in Nelson, New Zealand where they sort, roast, crush and classify, winnow, grind and conche, age, melt, temper, mold, and wrap all by hand.
Their process uses minimal ingredients and is focused on preserving the natural flavours within the cacao to create a chocolate with a true cacao flavor, a flavor lost in industrialized processing.
This unashamedly sweet white bar is flavoured with maple and laden with pieces of walnut, giving a delicate soft crunch to the creamy smooth white chocolate.
Ingredients: Sugar, cocoa butter, milk solids (skim milk powder, milk fat), walnut pieces, maple oil, organic vanilla bean paste. Contains milk.
Net Weight: 2.5oz / 70g
Made in New Zealand!
We pick, pack and ship orders around the clock. Most orders will be processed within 1-2 business days of receipt. Many orders are shipping sooner than that! Please note orders are not processed or shipped on weekends or holidays.
We are happy to ship every package with recyclable or compostable materials. We also include a complimentary sweet bite in each order :-)
White Choco from Heaven
I can't have chocolate. I knowww… As a singer, Acid Reflux, took chocolate -as I knew it- away from me many years ago. However, in the wake of this devastating circumstance, I have since become a white chocolate enthusiast. Now when I say "white chocolate enthusiast", only the highest quality (high percentage of cocoa butter) will fulfill my requirements as a replacement for the "dark stuff".
THIS white chocolate is one worthy of said replacement. The subtlety of the maple and walnut doesn't overpower or overshadow -in fact it elevates the cocoa butter! You will not be disappointed. My boyfriend sent me this and let's just say, he made the right choice. WELL WORTH the $! -Cara