Akesson Criollo 100% Dark Chocolate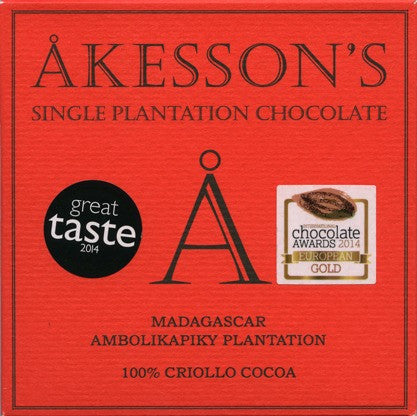 In the Sambirano valley, near Ambanja, in the North-West of Madagascar, Bertil Akesson has being growing world famous cacao since 1920. This certified organic chocolate is made with the beans selected from one of his smallest plantations called Ambolikapiky.
Flavor Notes: Subtle fruity-sweet tartness and pleasant flavor notes that evoke citrus and red berries.
Ingredients: Organic cacao beans, organic cacao butter
Net weight: 2.12oz / 60g
Made in France!
We pick, pack and ship orders around the clock. Most orders will be processed within 1-2 business days of receipt. Many orders are shipping sooner than that! Please note orders are not processed or shipped on weekends or holidays.
We are happy to ship every package with recyclable or compostable materials. We also include a complimentary sweet bite in each order :-)
Akesson's chocolate
Will knock your socks off! For the serious chocolate devotee! Loved it!
Wonderful!
I loved this! Some of my family members were not convinced (just too dark for them) but all the more for me to enjoy.
It's rich and creamy. Strong, but not bitter.