Hogarth Chocolate Gianduia Dark Chocolate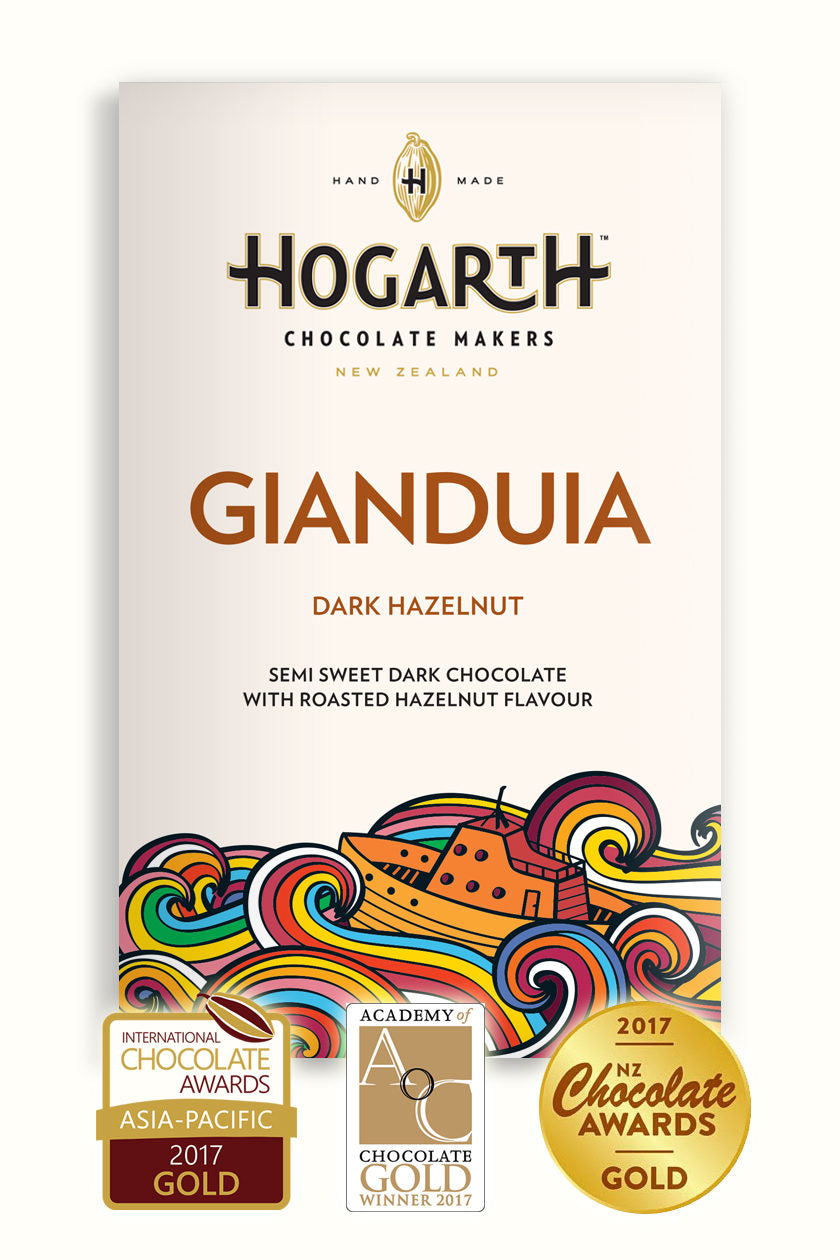 Hogarth Craft Chocolate is born out of a passion for chocolate, craftsmanship and art.
They source the highest quality cacao beans from around the world to create small batches of chocolate using traditional techniques. Their small factory is located in Nelson, New Zealand where they sort, roast, crush and classify, winnow, grind and conche, age, melt, temper, mold, and wrap all by hand.
Their process uses minimal ingredients and is focused on preserving the natural flavors within the cacao to create a chocolate with a true cacao flavor, a flavor lost in industrialized processing.
WINNER OF GOLD AWARD AT 2017 ACADEMY OF CHOCOLATE, LONDON
WINNER OF GOLD AWARD AT 2017 INTERNATIONAL CHOCOLATE AWARDS (ASIA PACIFIC REGION), NEW YORK
WINNER OF BRONZE AT 2017 INTERNATIONAL CHOCOLATE AWARDS WORLD FINAL, LONDON
Combining 30% locally grown hazelnuts with cacao, Hogarth creates a rich semi-sweet Gianduia bar.
Gianduia is a soft hazelnut chocolate, smooth and velvety due to the hazelnut oil lowering the melting temperature of the chocolate. The resulting experience is a silken mouth feel and lingering roasted hazelnut flavour.
The original Gianduia came from northern Italy. Legend tells us that cocoa supplies were limited during the Napoleonic Wars so a chocolate maker in the Piedmonte region added roasted hazelnuts to supplement the cocoa, and Gianduia was born.
Ingredients: Cacao, Hazelnuts (30%), Sugar, Organic Cocoa Butter. Vegan – Glutten free – Soy free
 
Net Weight: 2.5oz/ 70g

Made in New Zealand!
 
We pick, pack and ship orders around the clock. Most orders will be processed within 1-2 business days of receipt. Many orders are shipping sooner than that! Please note orders are not processed or shipped on weekends or holidays.
We are happy to ship every package with recyclable or compostable materials. We also include a complimentary sweet bite in each order :-)